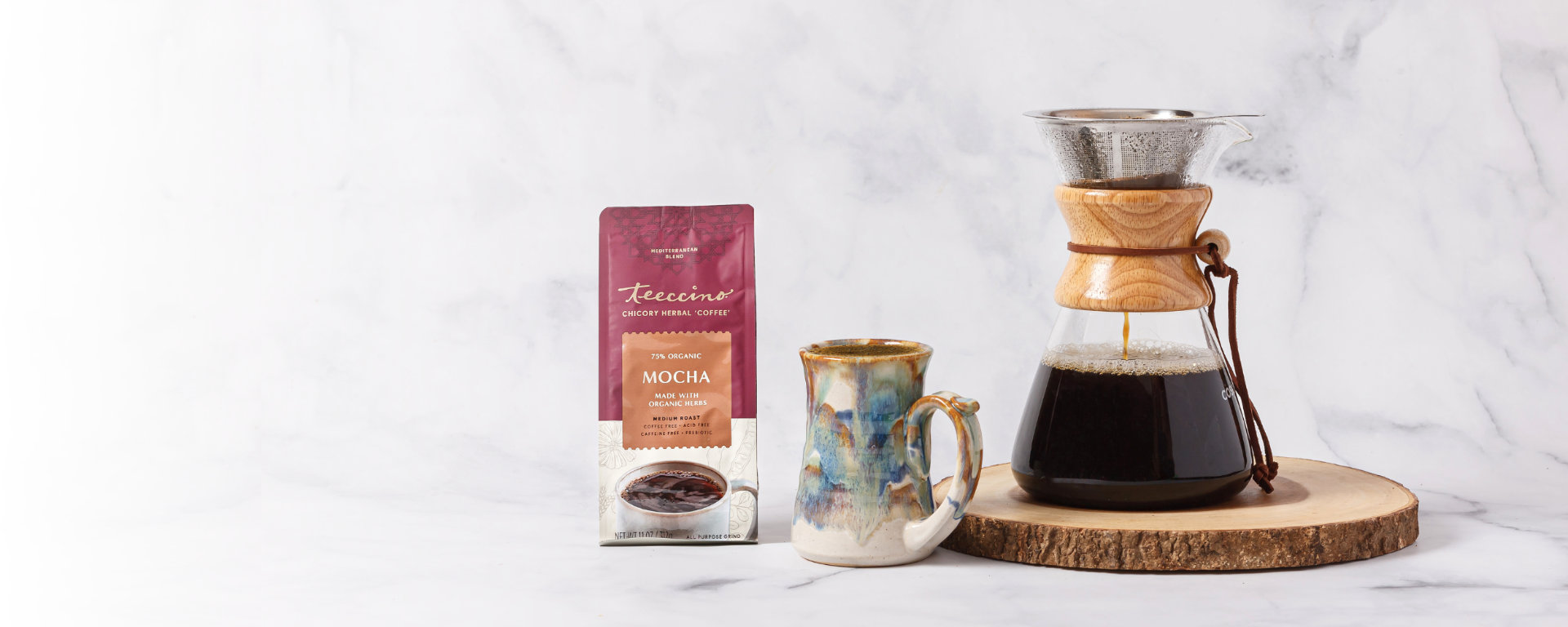 Amazing alternative to decaf
I have been drinking decaf for 20+ years and have been okay with it. Lately, though, the acid has been bothering me. I found info about Teeccino and decided to try it. So amazing - delicious flavor options, tastes better than coffee, and easy on my stomach. I haven't tried all the flavors yet, but bought one of each. So far, my faves are dandelion coconut, gingerbread and orange.
Indigestion and sour stomach have gone away!
I decided a little over a year ago that I needed to get off the caffeine, esp. coffee. And I LOVED my coffee. But...It was causing hot flashes and, for the first time in my life, indigestion and a sour stomach. Decaf didn't make any difference. I was very uncomfortable most mornings but was willing to put up with the discomfort because I wanted that coffee. And then I found Teeccino and I am happy to say that all of those issues have gone away (well, mostly -- hot flashes still happen; but not because of coffee & caffeine!). I sleep better, am less irritable, and I don't crave coffee like I used to. Now I look forward to a large mug of Teeccino every morning with a bit of coconut milk -- yum! Oh and I love the Swissgold one cup coffee brewer -- perfect! Thanks for a great product.
My GERD is much better
I have GERD, and as a result, I have had to change my diet. One of the things that made my symptoms much worse was coffee (both regular and decaf), but I loved drinking a nice, hot cup of brew in the morning. Then one day I discovered Teeccino in the health food store while looking for alternatives. It has been at least 2 years since then, and I enjoy having a cup of Teeccino every morning. My GERD is much better, and I don't have any cravings for real coffee anymore! My favorite flavor is the Chocolate which is really delicious. Now I am looking forward to trying the Teeccino tea bags so I can even enjoy Teeccino when I go out to breakfast! Thanks for a great product!
Grateful for a non acidic alternative
I also wanted to let you know that I had an acute case of acid reflux & have been drinking weak decaf coffee for years. I love something warm in the morning & just couldn't give up my decaf. But as I get older my reflux gets worse. In June my husband took me to ER because we thought I was having a heart attack. I had chest pains for about 18 hours that were getting worse as the day went by. I didn't have my usual symptoms & the Prilosec was not working at all. (I have taken Prilosec for years!) My left arm was numb & my fingers were tingling. So we finally went to ER. After several tests they determined it was not a heart attack & released me & told me to see my Dr. on Monday morning. Mr Dr. finally decided my meds needed to be doubled in strength & I am now taking them twice a day! I decided to search online to see if I could find a product that was decaf & Non acidic! That's when I found Teeccino & decided to try it. I LOVE it!! It does not upset my stomach. My Dr. is now strongly suggesting I have stomach surgery for the acid reflux. I am trying very hard to not have surgery done... (the TEST I need before they can decide about the surgery is $10,000!!! Luckily I do have insurance but my share would be $600. for a 20 minute test (that is NOT pleasant to do & I would have to be awake for the test with no medication for relaxation or for being nervous!) Since that is A LOT of money, that is hard to come by these days, I am trying very hard to not aggravate my condition by drinking coffee! I just wanted to let you know how much a REALLY Appreciate your product. And I can take the tea bags with me so I can have my coffee on the go as well.
No heart flutters from Teeccino
I drink Teeccino because it is completely caffeine free. I gave up 'real' coffee a year ago and have tried to drink decaf, but I really notice that I have heart flutters when I drink even the decaf stuff. So back to Teeccino I go. I just ordered two bags from my health food store, so will save the coupon for future use. Thanks for the coupon!
No pills for me
My doctor said he wanted to put me on pills. I promised to quit caffeine. So, I went to decaf coffee. At my next visit, he still wanted to put me on pills. I quit drinking coffee altogether. He said I was better and he'd hold off putting me on pills. Now, I have found Teechino and I am THRILLED that I can enjoy a warm cup of what tastes like coffee! YAY! Thank you, Teeccino!